Posted on July 26, 2017
Is SmartLift the best glass installation & lifting machine around?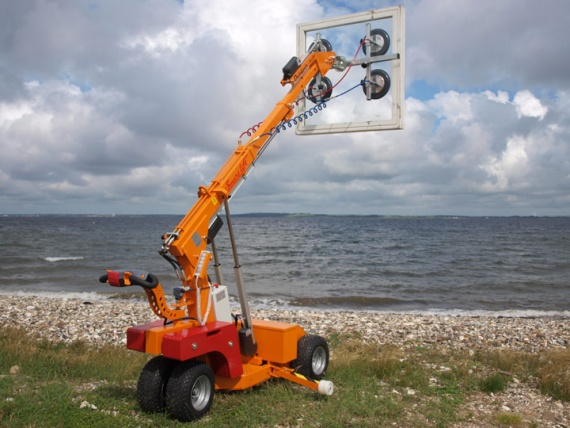 Since we entered the glass lifting and installation game last summer, we've been overjoyed to hear the success our growing customer base has with our new SmartLift machines. Very little makes us more pleased than to hear how much time and money our vacuum lifters save clients on their projects. We see that in their actions as well, as they continue to use our machines on multiple projects.
But, is SmartLift the best glass installation & lifting machine around?
Of course, we think SmartLift is your answer. Here's part of our argument:
1 - They can transport, lift, and hold glass pieces of all shapes and sizes.
Most any machine can lift and carry standard framed glass windows, but what separates glass lifters is their ability to transport, lift, and hold custom, curved, asymmetrical pieces of glass. SmartLift prides itself on its ability help teams install these unique pieces.
2 - There are machines for indoor and outdoor use.
Sometime the glass / windows are installed from the inside. Sometimes they're installed from the outside. SmartLift has both an indoor and outdoor line of machines, each tailored to the environment that typically goes with those conditions: the indoor models are gentler on floors, outdoor models are better to handle rougher and unlevel terrain.
3 - Let's not forget the variety of attachments.
When we say, "asymmetrical" pieces, we don't just mean those pieces with a little curve to them. We're talk those custom, oblong, hook-nose pieces that came from an architect's dream (or a project manager's nightmare). With extensions for extra suction cups to widen and strengthen the grip, we help make those dreams reality. Just make sure you do a little math to make sure you got it in all the right places.
4 - …Including Attachments to lift and hold Fire Doors.
One of the things that most impressed us about SmartLift when we were first introduced to them was that they could not only handle glass with ease, but other materials. The demonstration video we saw on SmartLift lifting and holding a fire-rated door really captured our attention.
Contact us today for Free Delivery, Sales, and Specials…
We typically run Free Delivery on all our long-term rentals as well as additional specials for sales. Contact us today to help us help you learn how our SmartLift glass lifters & installers can save precious time and money on your projects.
Buy, Rent or Schedule Repairs
Click the button below and fill out the provided contact form or call us at 815-931-4825 to get started today.
Get Started