Posted on June 7, 2017
SmartLift® glass vacuum lifting machine vs. the competition. Here's why we like our odds.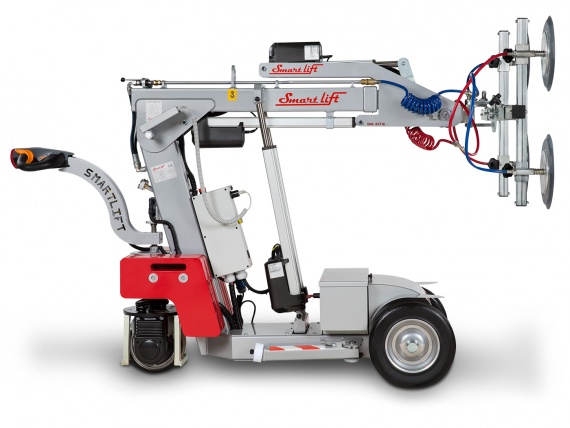 As we've repeatedly stated, when we were offered the opportunity to be the exclusive dealer for SmartLift®, we jumped at the opportunity. Leapt. Out-of-our-shoes leapt, to the point where we had sit down, untie our shoes, put our feet back in, and lace them back up before continuing.
Maybe.
The point is, we knew it was an incredible opportunity. SmartLift® vacuum lifters might be the best glass lifting machine on the market.
1. There really isn't a direct competitor.
I know, a weird way to start off a comparison, but it's pretty incredible. SmartLift® can do the work of other machines in the field, but no other machine can do all the work a SmartLift® can perform. As we wrote about in our piece, "SmartLift® Vs. Other Glass / Vacuum Lifting Machines:"
"It sounds crazy, but some machines can do the lifting, but only for small pieces. Others can lift larger pieces, but they're only attachments. For SmartLift®, they do it all."
2. SmartLift® can perform the work of others cranes, too .
SmartLift® has a variety of attachments and attachments which allow it to lift, hold, and even transport other types of materials as well. This includes sheet metal and even fire-rated doors.
3. Go bigger & longer with our glass lifters, but only if you need to go "bigger & longer."
We quoted an old joke in our article, "What to look for in a glass lifting machine (AKA glass vacuum lifters):"
"I don't have to outrun the bear. I only have to outrun you."
It would be a rare thing, indeed, if a company cut a piece of class that we couldn't lift, but as our post noted, not every project has that kind of power. SmartLift®'s line of glass vacuum lifters come in all shapes and sizes. That means you can pick the size that's best for your job.
4. Sales, Rentals, and Same-Day Financing available.
As we stated in our article "Why Choose SmartLift® Glass Vacuum Lifting Machines," as well as in numerous other pieces:
" With Sales, Rentals, and Same-Day Financing available, you'll quickly find out what options best fit with your budget. And with incredible, friendly service, you'll discover that when you go with Great Lakes Lifting, you get a whole team by your side."
The deal has been a staple with all our products since we first opened our doors. It hasn't changed. To learn more about the specials, click the form and contact us today.
Buy, Rent or Schedule Repairs
Click the button below and fill out the provided contact form or call us at 815-931-4825 to get started today.
Get Started