Posted on August 9, 2017
Glass Handling Equipment. What you need and that we probably have it.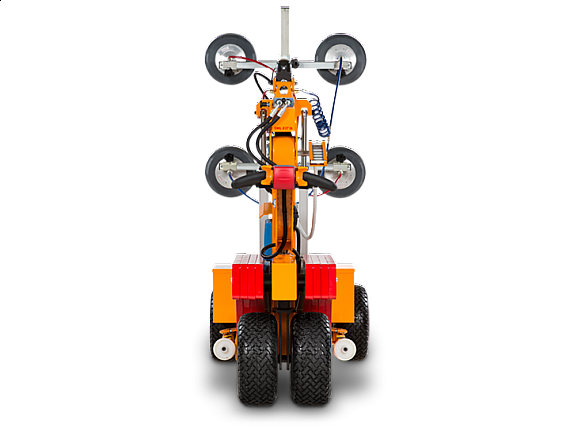 Thanks to our futuristic Smartlift® line, we essentially offer a glass handling & lifting suite complete with all the necessary tools, equipment, and accessories to power your windows and glass projects when we rent or sell one of these machines. That's because each Smartlift® glass lifter incorporates the following features:
For more information, contact us today.
Here's more about our Glass Lifting Equipment in greater detail.
Our Smartlift® glass lifting machines do the heavy lifting.
Our smallest machines can lift & hold a custom glass piece nearly a half-ton. Our biggest machines can lift & hold custom glass pieces weighing nearly a full ton. And, when we say, "custom," we mean pieces that are more dynamic than plain, rectangular pieces.
We have the essential glass lifting attachments for our glass lifters.
We have the standard attachments and suction pads to lift standard pieces of glass. That's easy.
Lifting & holding custom pieces typically requires custom attachments to hold them. We have those pieces as well.
Smartlift®s can even get around the job site.
With machines and tires custom designed for indoor and outdoor job sites, our Smartlift® glass lifters will be equipped to essentially go anywhere on the job site.
We have free rental and bulk discount opportunities with each machine we have.
Each customer has unique needs. Some need to buy. Some need to rent. Some need them for a quick gig. Some need them for years. We have solutions for all those needs. Our solutions can also come with free deliver on long term rental agreements.
And if you need extra hands, we have Spydercrane Mini Crawler Cranes.
Need to get pieces even higher, Say a story or two? Our Spydercrane mini crawler cranes also come with glass handling attachments to accompany the job site. We can bundle them together.
Buy, Rent or Schedule Repairs
Click the button below and fill out the provided contact form or call us at 815-931-4825 to get started today.
Get Started