Posted on August 23, 2017
Glass lifting equipment, Smartlift®, and their perfect marriage.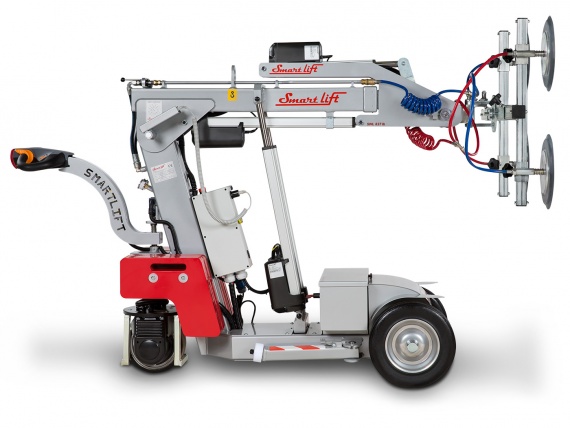 Glass in construction can be like the kicking game in football: most fans like to take it for granted, teams don't like to invest too much in it, but often your kicker scores the most points. That said, we knew when we incorporated Smartlift® glass lifers and equipment into our catalog, we were going to be enhancing what we could offer construction teams and industry contractors.
Recently we were asked by a prospective customer:
"Is Smartlift® a glass lifter, a glass vacuum lifter, a glass handler, or just glass lifting & handling equipment? "
Our answer:
"Yes."
Glass Lifting Equipment – Lifter and Attachment.
Smartlift® is glass lifting equipment for heavy, sometimes custom pieces of glass. It is the lifting machine, the accessories, and much of the manpower. The accessories include pieces for the custom lifts and for non-glass lifts such as fire-rated doors.
We also have the 400 Sky Lifter glass lifting attachment to further bolster your equipment on the jobsite.
What makes it a Glass Vacuum Lifter.
Its guts make it a vacuum lifter. With its working power and suction attachments, Smartlift® uses vacuum suction power to lift glass pieces.
All the features that make Smartlift® a great glass handler.
Great glass handlers come down to their accessories. Smartlift® put a lot of care and effort into creating their accessories. With them, small lifts are made with delicate care and heavy lifts are made with incredible precision. Standard, custom, and non-glass material lifts are all capable with the accessories, further reinforcing Smartlift®'s reputation as a great glass handler.
And we can bring other tools in.
Smartlift®s work great with our Spydercrane mini crawler cranes. Really, really great.
And, of course, the deals and specials.
Our experienced and friendly team will help you assess your needs and make sure you have the glass lifter you need, with the required tools and equipment, for the length of time you require. Contact us today to learn more.
Buy, Rent or Schedule Repairs
Click the button below and fill out the provided contact form or call us at 815-931-4825 to get started today.
Get Started