Posted on September 20, 2017
The art and science of Glass Manipulator Rentals.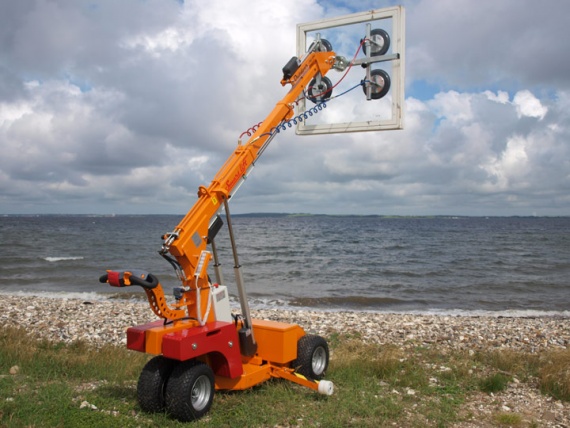 What makes a great glass manipulator? Everyone has similar yet varying opinions.
Here was our criteria when we were looking to introduce an industry leading glass manipulator to rent / sell in our markets:
First: The glass manipulator had to be Safe.
None of the other criteria matters if the glass manipulator machine isn't safe. No amount of money makes a difference if it's hurting people in order to make a quick buck. So, we prioritized safety.
Second: The glass manipulator had to be Ergonomic.
We didn't just want the machine to be safe during the use, we wanted the machine to be safe over time. The second-to-last thing we wanted to hear is that we shortened the careers of hard-working men & women because the machine that was supposed to make their jobs easier wore them down over time.
So, we wanted to avoid a machine that would essentially give a "work death" by a thousand cuts.
Third: The glass manipulator had to be Quick & Easy-to-Use.
Once we narrowed down the glass lifting machine line we thought was safe both immediately and over time, we started to look at value. ROI..
At this point, using the machine had to be quicker than having the team do the work themselves. We knew several machines existed. So, we narrowed are search parameters to a glass manipulator that made lifts and holds much quicker for teams.
Fourth: We wanted durability.
We wanted to make sure the machines could perform these lifts for longer than one use, one day, or even one season. We wanted to make sure it was as dependable as your trusty flat head screwdriver.
We knew that EOL and part replacement was an inevitability. That was fine. But we wanted to find machines that could do the most work over time.
Last: We wanted the glass manipulator to be affordable.
Speaking of inevitability, we wanted to make sure we focused on total cost of ownership. We not only wanted the glass manipulator to be affordable today, but we wanted it to be affordable during the lifetime of the machine.
When we put all our searches together, we came up with the SmartLift® line of glass vacuum lifters & manipulators.
With their focus on safety, usability, durability, and total cost-of-ownership, it was tough to pass them by. They not only seemed a great value for us, but more importantly, for our customers as well.
To learn more about why we think SmartLift® has the best glass manipulators for your job(s), contact us today. Our friendly staff will walk you through how they stack up and rise to meet the challenges you'll present to them.
Buy, Rent or Schedule Repairs
Click the button below and fill out the provided contact form or call us at 815-931-4825 to get started today.
Get Started