Posted on October 10, 2017
How to lift heavy glass pieces.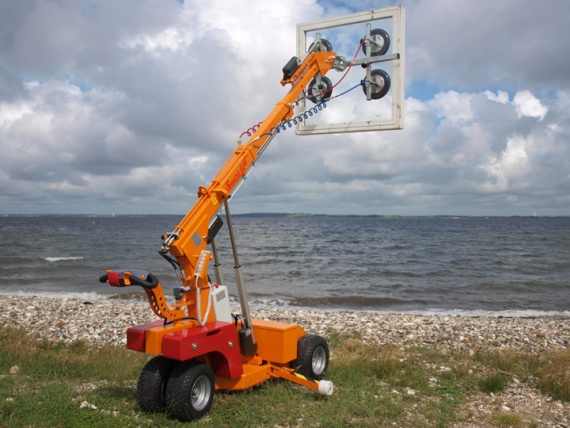 Moving heavy glass is like moving any other heavy thing on a construction project / task. A lot of planning and a lot of preparation is needed, even if the pieces are all the same size and shape. The best way to think of lifting heavy glass is the same way you plan on moving all construction materials on a job site: respecting the varied sizes and shapes of each piece. The more dynamic the pieces of glass, the more dynamic the project.
How NOT to Lift Heavy Glass:
That last thing you want to do is grab & go. Heavy glass pieces aren't like 4'x8' OSB boards that you bought in bulk for $10 a pop, but you probably know that already or you wouldn't be reading this.
So, let's continue.
Plan ideally.
Develop an ideal strategy. Use a little math and a little mapping. Determine weight, size, and shapes of each piece that is about to lifted.
Make sure you know the exact load / loads to be lifted:
How many pieces do you have?
Are they all the same shape and size?
Are there any unique, custom shapes in the pieces needing lifted?
Make sure you know the route:
Is it hilly or is it flat?
What parts of the route are indoor?
What parts of the route are outdoor?
What's a bad-weather day like out on the job site in your corner of the world? Plan for that, because it will probably occur just because you don't want it to
What will the surface be like? Concrete? Gravel? Muddy? Potholes? - fill in the holes and cover them where you can
And make sure you know who shares your route with you:
Who else uses the route?
Will you be going out into the public, or off the project site?
Also, know who your lifters will be:
How many will be available for the lifts?
Do they have lifting equipment? Strap, braces, machines…
For how long will they be available?
Now, sort the budget
Now that you know what you're hoping for, it's time to sort out what you can get with the budget you have. Maybe you can get all the bells and whistles and get the lifts done in a hurry. Maybe you can only get a few and it takes a little longer to complete. It will depend on your budget and needs.
Practice.
Once you've set your plan based on your budget, going through a few trial runs would be a smart idea, especially if you have any rookies or greenhorns on the job. This will be a smart way to shake out some of the kinks in the system, and plan accordingly.
Consult.
There are specialists for this sort of thing. For example, those who use our SmartLift® glass vacuum lifters on their jobs call us all the time to double-check their math and process before lifting and installing those beastly pieces of glass.
Final countdown. Proceed with caution.
Queue the 1986 Europe classic, then turn it off so you can concentrate. Final checklists, final walkthroughs, then the final double-check.
And the work begins.
For more questions about how to lift your heavy glass pieces with our SmartLift® glass lifters, or how we can help, contact us today. Our friendly staff will be more than willing to walk you through your plan with you and see if we say anything you can improve upon. Or, if you just want a second opinion.
Note: Article is not advice. Just a list of things to consider.
Buy, Rent or Schedule Repairs
Click the button below and fill out the provided contact form or call us at 815-931-4825 to get started today.
Get Started