Posted on January 11, 2017
Need a Glass Lifting Machine to lift a half-ton of glass and goods? We got three choices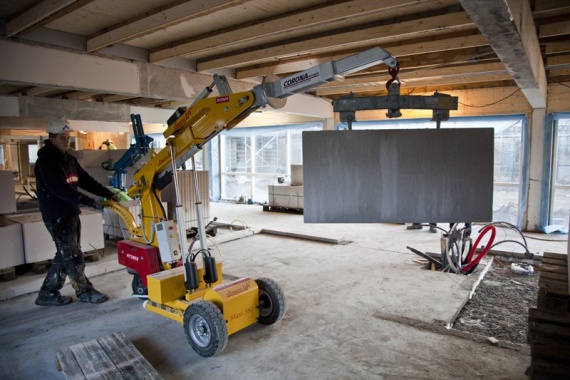 There's lifting half-ton industrial glass pieces. Then, there's lifting half-ton glass pieces safely. Then, there's doing it efficiently.
When you lift those glass pieces with SmartLift® machines, you get all three. SmartLift® glass lifting machines do the work of both vacuum lifters and glass handlers. They're fast, efficient, safe, and easy to operate.
For those looking to do nearly half-ton lifts, we've got a couple that come really, really close, and a couple that go well over a half-ton.
To lift nearly a half-ton indoors? Go with the 380 Indoor
Elevating straight and curved glass pieces, and ever fire-rated doors if needed, the SmartLift® 380 Indoor machine can hoist up to 904 lbs. by itself. With an arm extension over 1.6 ft., you can customize the position of the piece and take (nearly) all the time you need to make sure the installation is flawless and ready to go.
To lift nearly a half-ton outdoors? Go with the 380 Outdoor HL
Hoisting pieces weighing up to 837 lbs., the SmartLift® 380 Outdoor HL is often the perfect outdoor tool for those looking for a half-ton lifter to simply do lifts that weigh several hundred points. Durable, diverse workhouse that can go 8 hours per charge, the 380 Outdoor is great for a multitude of terrains.
For a glass handling attachment that can lift nearly a half-ton? Go with the 400 Sky Lifter
You got a machine, but you need a glass lifting attachment to do the heavy lifting? You'll want the SmartLift® 400 Sky Lifter. With the ability to lift 881 lbs., this glass handler can lift over its body weight (793 lb.). Just make sure your crane can lift 1,674 lbs. At the desired height.
As for those that go well over a half-ton...
We've got a few that will get you to the 1,000 lbs. Threshold and beyond. Take a look:
580 Indoor : It can lift 1,323 lbs.
608 Outdoor HL: It can haul up to 1,340 lbs.
780 Outdoor : The biggest one of the bunch: 1,819 lbs.
Whatever your glass lifts, play it smart. Go with SmartLift
Over a half-ton. Under a half-ton. And anywhere around that mark. If you need to lift, hold, and transport straight, curved, or custom pieces of glass across the job site, then be smart about it.
Contact us today to learn about our entire line of SmartLift® glass handlers, vacuum lifting machines, and glass handling attachments.
Image source: smartlift.dk
Buy, Rent or Schedule Repairs
Click the button below and fill out the provided contact form or call us at 815-931-4825 to get started today.
Get Started