Posted on July 13, 2016
Why we added SmartLift® Glass Lifting machines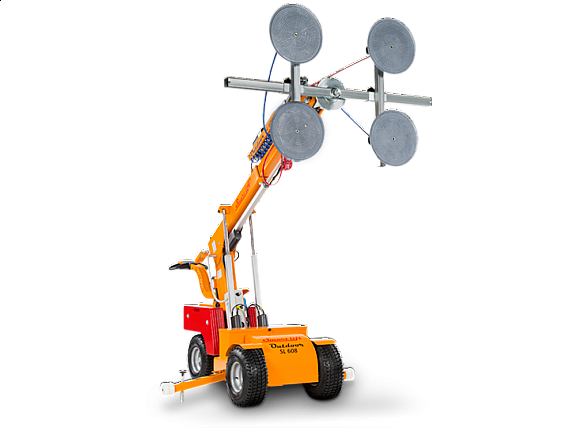 There are all types of vacuum glass lifters. Some are small. Some are huge. Many are attachments.
But we love what SmartLift® offers with their versatile, durable line of glass lifting machines. They take glass vacuum lifters from a general attachment or tool and elevate them to specialized, efficient machines that save time and money on your projects. Here are a few of the reasons why we happily added SmartLift® to our offering:
SmartLifts are more than just vacuum glass lifters
SmartLifts are machines. They do the lifting themselves instead of outsourcing it to other pulley devices. They can lift, hold, and transport the materials both in and around the jobsite.
All glass pieces, great and small...and then some
Often times, you'll find glass vacuum lifters as extensions that work with other devices. Like we said, they're great. But to provide flexibility and customizability to lift straight, curved, and odd-shaped pieces, SmartLift® has an assortment of easy-to-use accessories to assure the perfect fit, regardless of the piece.
SmartLift® machines also come with multiple attachments to act as pallet jacks and machines that can lift & hold fire doors for installation.
Own or Rent. Either solution is a winner.
Some want to own and keep it in their own care so they know exactly where their machine has been. Others want to keep a casual relationship with the machines.
Whichever your need and business model is, we've got a plan to go with your needs.
You don't just get a machine, you get a team.
Our friendly and knowledgeable support staff will be here to answer your questions and help you get started. We also will train first-timers on the ins & outs of the machine. And, for our wow demonstration, we provide service agreements to keep proactive, preventative care on your machine to keep it running for years to come.
For more information, click the big, black button below to talk to our team.
Buy, Rent or Schedule Repairs
Click the button below and fill out the provided contact form or call us at 815-931-4825 to get started today.
Get Started