Posted on July 20, 2016
Why choose SmartLift® Glass Vacuum Lifting Machines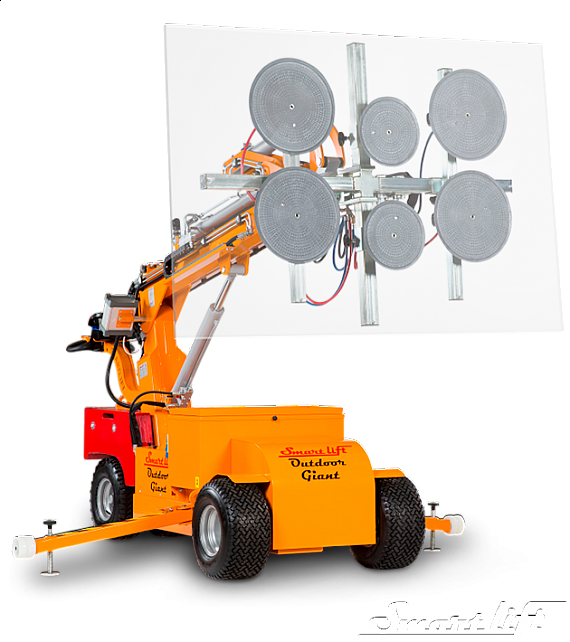 While we've spent the last few years focusing on Spydercrane mini crawlers - and for good reason (because they're incredible) - we are first and foremost a lifting company. We're about getting goods, services, and resources up where they need to go. We do it with an extreme focus on safety and security. From there, we focus on efficiency.
When we were first discussed including SmartLift into our fold, we jumped at the chance. Why? Because the SmartLift® line of glass vacuum lifting machines embody those same qualities we hold dear: safety, security, efficiency, and durability. They also hold the following qualities:
Mobility
With transport wheels available to go over interior and exterior surfaces, the SmartLift® line of glass vacuum lifters will keep you glass panes and windows sturdy and stable during transport. This will reduce any chances for breakage or stress cracks in your materials.
Versatility
SmartLift's numerous accessories allow you to lift, hold, and move straight & curved pieces alike. They also allow for additional suction pads to stabilize curved & custom pieces.
The machines can also be fitted with hooks and forklift extensions to act as your all-in-one lifting device - which is particularly helpful for projects with tight budgets.
Transportability
Each SmartLift® comes with their own trailer custom fit for their needs. The indoor trailer has indoor specs; the outdoor trailer has outdoor specs.
This is also true of the tires: the indoor ones have tires specific for indoors. The outdoor tires are designed four rockier surfaces and rougher terrain. Both types of tires are designed to withstand deflating when punctured.
Affordability
With Sales, Rentals, and Same-Day Financing available, you'll quickly find out what options best fit with your budget. And with incredible, friendly service, you'll discover that when you go with Great Lakes Lifting, you get a whole team by your side.
Want to know more? Hit the big black "GET STARTED" button below and contact us today. Our friendly customer-focused staff will make sure you get the answers you need in a nice, friendly, timely matter.
Buy, Rent or Schedule Repairs
Click the button below and fill out the provided contact form or call us at 815-931-4825 to get started today.
Get Started