Posted on December 17, 2014
Do People Buy, Rent, or Repair Their Spydercrane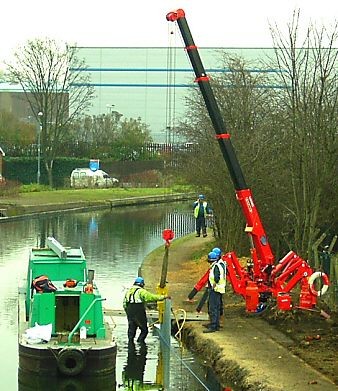 A tool as unique as a Spydercrane provides numerous opportunities for customers. This mini crawler crane has been called on to perform tasks in the commercial, industrial, and the residential arenas.
The diversity of the opportunities means that customers from all walks of life inquire about it. The diversity means that some customers need the machine all the time, some need the machine once in awhile, and some need them for a special occasion. Because of its uniqueness, we provide a variety of ways in which customers are able to get their hands on a Spydercrane: purchase one, maintain one,
"When do People Buy Spydercranes?"
Most customers purchase the Spydercrane because of their frequent and recurring use of the crane. Some have fleets for their crews, others have one. It all depends on need.
We do have some that purchase one to have handy for special situations. We're also positive some folks have the machine because they think it's cool.
"When do Customers Rent Spydercranes?"
For those who rent, it typically boils down to a lack of need or resources. They don't often need reach the heights provided by Spydercrane at the volume that makes sense to purchase, maintain, and store the equipment. The Spydercrane is a beautiful, capable, enduring piece of machinery, but like all machinery, it needs to run a little while to keep it in peak working condition.
"How often do we need to service Spydercranes?"
This is a question that comes down to use. If it is frequently used with frequently heavy loads, the Spydercrane, like all machines, will need repeated servicing to keep it operating in peak condition. If the loads are lighter and the use isn't as frequently, then there can be a longer time between services.
The best thing to do is to estimate volume and usage. From there, we can come up with a service plan.
"Parts and Services, too?"
Absolutely. We provide services, parts, and maintenance to make sure your Spydercrane can run long into the future.
"What if I am not sure?"
We have a great, knowledgeable staff to assist you in figuring out the needs that are best for you. We're here when you're ready to talk.
The Right Spydercrane. The Right Deal.
Spydercranes are often the right tool for many jobs. With sales, rentals, and maintenance agreements, we can also provide the right plan. Contact us today to learn when Spydercrane and agreement works best for you.
photo credit: Furukawa UNIC on Pinterest
Buy, Rent or Schedule Repairs
Click the button below and fill out the provided contact form or call us at 815-931-4825 to get started today.
Get Started