Posted on February 10, 2016
Is the Mini Crawler Crane a trend or a growing industry?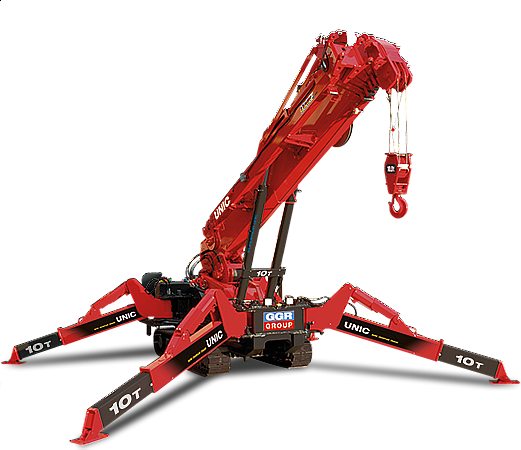 We're probably not the best ones to ask this because of our biases, but recently, as it happens a few times a year, we were asked about the longevity of the Spydercrane mini crawler crane:
Will the Spydercrane have longevity in the market?
I won't even start about the pun some would go with, asking whether or not it has the legs to last. Well, then again...
We do know people use Spydercranes globally
The Spydercrane started back in the middle-late 20th century in the Far East. Over the years, thanks to a well-crafted expansion strategy by UNIC Furukawa, its distributors and dealers (like us), and, yes, even its competitors, the mini crawler crane has stretched its legs (that play-on-words was our fault) into several industries, from small residential and commercial construction, to high-tech industries such as aerospace.
As Spydercrane's web continued weaving into these enduring markets, the opportunity for further growth continued to present itself. This allowed for the crane's reach to continue to extend south and westward, expanding into Australia and Europe.
To this point, it was not initially called a "Spydercrane"
At this point, the Spydercranes were typically known as UNIC Cranes, as well as mini crawler cranes. It wasn't until the planned expansion into the western hemispheres that the name, Spydercrane," emerged, presumably in part to play along with its affectionate nickname.
Then, they came here
And we became acquainted with them. We loved them so much, we became distributors. We love their rich history, and more importantly, their flexibility, adaptability, durability, and usability. They've become a big hit on this side of the pond.
So, "no," we don't think the Spydercrane is a trend
We think it is an incredible Swiss Army knife of a tool to have in your arsenal for lifting and hauling projects.
We hope that helps.
For more information, or to rent or service a Spydercrane, contact us today
Buy, Rent or Schedule Repairs
Click the button below and fill out the provided contact form or call us at 815-931-4825 to get started today.
Get Started