Posted on November 18, 2015
Not blowing your load thanks to the load monitoring system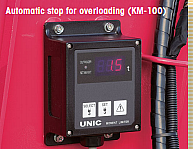 When it comes to safety, a little redundancy can go a long way. This is especially true when it comes to lifting heavy loads. They last thing any construction site needs is a failure from a forgotten failsafe.
When it comes to Spydercranes, we have a healthy selection of safety equipment designed to cover all aspects of the machines. Depending on the machine, you will find features including turn-over-protection system, anti-two block system, onboard self diagnostic system, hexagonal boom design and features for the hooks, ropes, and outriggers.
For this feature, we focus on the load, thanks to Spydercrane's Load Monitoring System: the rated capacity limiter.
What does the Load Monitoring System / rated capacity limiter do?
Like the definition of a perfect game in baseball, a rated capacity limiter's name pretty much sums it up.
As known, each crane is rated to carry only-so much weight. That number starts to deteriorate based on numerous factors including height-lifted, angle stretched-out, and the weather and terrain where the work is performed. Spydercrane's Load Monitoring System rated capacity limiter assists in doing the math, keeping track of the weight and extension and
The equipment they use for the Load Monitoring System? PAT Hirschmann
The standard load monitoring systems are typically supplied by Hirschmann (also known as PAT Hirschmann). Hirschmann is a leader in crane safety equipment, covering all aspects of crane safety for most all types of cranes.
Want to learn more about crane safety for your project?
Contact us today. Our knowledgeable team can answer all the questions you need and even fit you with a custom price quote, if you would like, so you can make a thorough, informed, safe decision.
Buy, Rent or Schedule Repairs
Click the button below and fill out the provided contact form or call us at 815-931-4825 to get started today.
Get Started