Posted on August 5, 2015
Can a Spydercrane do Pick and Carry Loads?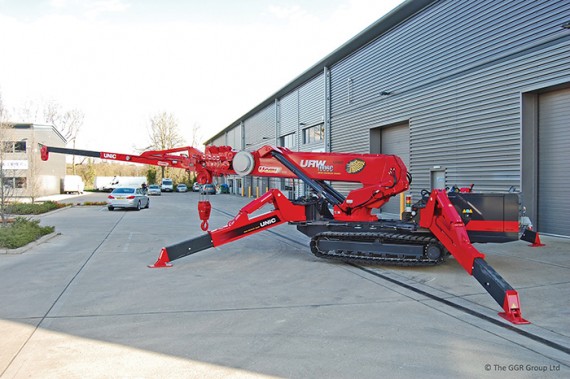 We recently received a rather important question that we thought was more-than-worth sharing:
"Can a Spydercrane do a 'Pick and Carry' Load?"
The answer:
"The URW-1006 is the first Spydercrane specifically designed to perform the pick and carry function."
And then there's the follow-up question:
"Wait, the URW-1006? What is that?"
The URW-1006 is the latest model of Spydercrane. Currently being introduced into the European markets, the URW-1006 is scheduled to make its appearance into the US later on in 2015. The biggest of the fleet, this new mini crawler crane will be able to hold more, reach farther, and perform more work than any other Spydercrane.
The URW-1006 will also be the first to perform the coveted Pick and Carry operation. Why, "the first?" and "why don't the other cranes typically perform this function?" To understand this is to understand what makes a Pick and Carry crane unique.
The difference between a Mobile Crane and a "Pick and Carry" Crane?
Upon initial hearing, the Mobile Crane and the Pick and Carry Crane would sound one and the same. And while there is significant overlap, in the end, "Mobile" does not mean "Pick and Carry" and "Pick and Carry," does not mean "Mobile."
A Mobile Crane's name and distinction arrives from the ability to move from location to location on a project site without assistance from other machines. For example(s), a typical truck-mounted crane can cover miles at a time and a crawler crane can cover up to hundreds of yards effectively.
What this does not mean is that it can take the load with it when it goes. This is where Pick and Carry comes in.
If only the Spyderlegs crawled...
For the most part, mini crawler cranes "crawl" on the treads, not the legs. The legs do not assist in transportation. Instead, they stabilize the crane during loads, allowing for the machines to increase the size of their loads and hoisting them to incredible heights.
It takes a machine as big as the URW-1006 to Pick and Carry and Crawl
The girth and strength of the machine allows for smaller loads to be carried over distances. Then, when it's time to get the heavy loads up or down, the legs come out.
Be the first to know when the URW-1006 comes out
Sign up below to become one of our email subscribers and become notified when Spydercrane's first true Pick and Carry Mini Crawler Crane hits the US.
photo credit: ggrgroup.com
Buy, Rent or Schedule Repairs
Click the button below and fill out the provided contact form or call us at 815-931-4825 to get started today.
Get Started