Posted on October 28, 2020
SmartLift—Making a Mark on the Rental Industry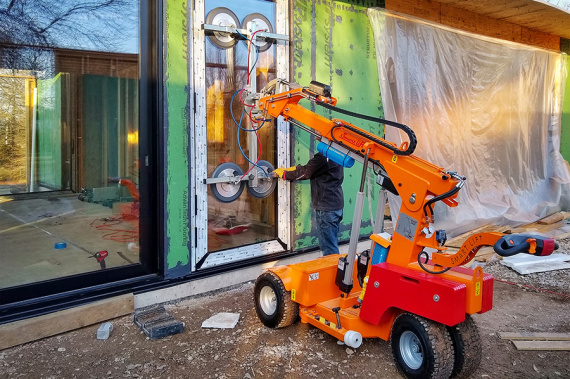 Mobile glass lifts—while a newer concept in rental fleets—are providing rental fleets of all sizes a great opportunity to cash in at a time where companies are struggling to see ROI on "normal" equipment. With relativity low acquisition cost and increasing market demand associated with mobile glass manipulators, the opportunity for frequent short and long term rentals provides strong ROI. The glazing industry, which has $31 billion in revenue in 2019, has long needed an effective solution to the ancient task of installing glass. Along with the glazing industry, the mobile lifts are also experiencing success in the marble and stone markets as well as the metal panel industry.
Many glazing contractors are looking for solutions to reduce risk of injury, ways to reduce labor cost, as well as increase job-site efficiency. Mobile glass lifts provide companies an option to not only improve safety but reduce crane cost on projects. They also provide companies with a great alternative when installing glass with fewer risks to their crew.
Benefits of SmartLift Equipment
SmartLift glass lifting machines are manufactured in Denmark and distributed in the United States. SmartLift US offers nine unique models for all types of projects. Offering both indoor and outdoor models, SmartLift will go places no other machine can go. SmartLift mobile glass lifting machines offer the most compact design with the greatest lifting capacities on the market. Most models will fit through standard 36" door and are 100% battery powered—requiring zero hydraulics.
SmartLift mobile glass lifts offer our clients the precision and maneuverability needed to install glass safely. Each SmartLift unit comes standard with a remote control, side shift, state of the art turnover protection, and over sized rear and front tires on outdoor models. Combine these features with the proprietary battery powered actuators that allow 1/64th of a inch movements and you have the most efficient glass setting tool.
SmartLift mobile glass lifts offer serviceability. We understand that rental clients are looking for equipment that is easy to operate and maintain. All SmartLift models offer easy access to components including vacuum pumps, control panel, and battery which means less down time when repairs are needed. SmartLift US also has a full parts inventory stateside as well as factory trained service staff to assist customers.
Adding Mobile Glass Lifts to Your Rental Fleet
Demands for glass lifting equipment are steadily increasing as more companies look to improve their installation processes. Owning glass lifting equipment is becoming a fixture of rental yards of all sizes, and SmartLift US offers equipment that performs and holds value. By adding a mobile glass lift to your fleet, you will be filling a need for your glazing contractors as well as seeing great ROI while your machines are hard at work.
Buy, Rent or Schedule Repairs
Click the button below and fill out the provided contact form or call us at 815-931-4825 to get started today.
Get Started