Posted on January 29, 2014
The new GreatLakesLifting.com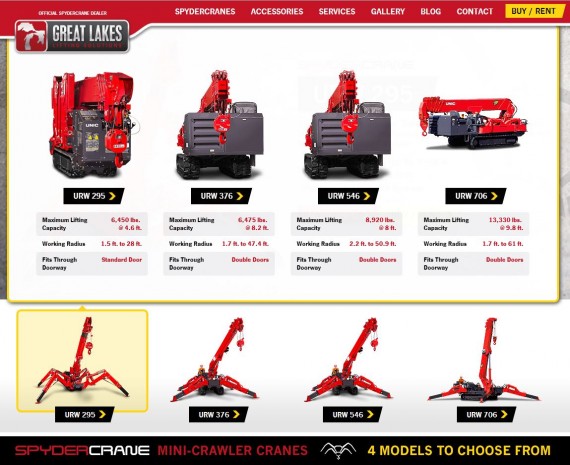 Since the Spydercrane mini crane market continues to explode beyond expectations, we figured we needed a website that could handle the accelerated growth. With that in mind, it is our privilege to announce that we have launched a brand new website at GreatLakesLifting.com with the focus of providing our customers the latest ins and outs of the Spydercrane.
What you will find on the new GreatLakesLifting.com
High resolution graphics and images detailing each model
The new GreatLakesLifting.com uses the latest online design styles & technology to prominently display each Spydercrane, providing incredible detail and insight into every nuance of the machine. The site also has updated specifications for each machine and provides easy-to-find PDF manuals. On each product page, you will see a red button titled, "FULL SPECS." Please feel free to click the button, look over, and copy & download those manuals.
Easy-to-Use contact forms
The new GreatLakesLifting.com makes it easier for users to contact us via the website regarding the specific Spydercrane (or Spydercranes) they would like to purchase, rent or request repair service. With direct-to-form button access and a nice, simple checkbox system which allows to simplify the request, customers will have everything they need just a mouse-click away.
Sypdercrane news & information and an easier way to connect with Great Lakes Lifting
We also have made it easy for customers to keep track on the latest news, information and sales announcements. The new GreatLakesLifting.com includes a blog, updated email subscription inclusion, and direct links to our social media profiles.
Do you have any suggestions for the website?
We are always looking for better ways to help our customers. If you have suggestions, advice, questions or concerns regarding the website, please, without hesitation, contact us. It is our goal to make GreatLakesLifting.com your source for Spydercrane mini cranes.
Buy, Rent or Schedule Repairs
Click the button below and fill out the provided contact form or call us at 815-931-4825 to get started today.
Get Started