Posted on April 20, 2020
The Safest Choice for Glaziers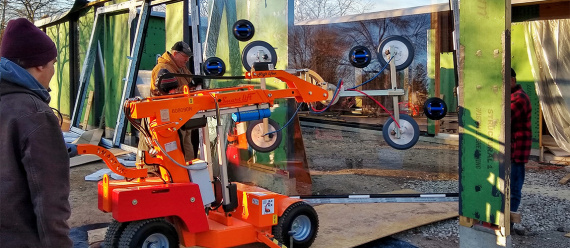 Jimmy Mason recently posted an article on Glazier Nation discussing the injuries he's sustained over the years as a glazier. Could a SmartLift mobile glass manipulator have given him a longer career?
Jimmy is an extremely proud glazier who started his career in 1982. He snagged his first glazing job with American Door and Glass. He would later tell his mom that, "this is the job I will do until I die." Fast forward 37 years and his passion is just as strong.
The truth is glaziers are full of passion for their trade. Unfortunately, on the job injuries are extremely common. Jimmy could talk about glazing endlessly. He explained that, "once you step back and look at a finished job the you helped build—you will never be able to get enough." That couldn't be truer. He raved about some of his favorite projects he's assisted on, including the Titans stadium and the Wachovia tower. He's even had three nephews follow in his footsteps. Honestly, a glazier is a "rare" breed—some of the hardest working guys and gals in the industry. Who until recently only installed heavy glass by hand.
Jimmy's story is like many other glaziers his age. At 55, his back is shot, something he knew would happen eventually. His advice for other glaziers is "to take care of your backs and respect everything you are lifting." The sad reality is that glaziers have so much drive and determination yet their careers are being cut short due to injuries that could very well be preventable.
Jimmy remembers thinking all these other trades have a tool to help them—but glaziers never had anything. He's survived sciatica, degenerative disk disease, 17 bone spurs, knee surgeries, and numerous epidurals. And now he is on disability due to his back injuries—at only 55 years old.
Then Jimmy learned about SmartLift. The first time he ever saw a tool that was used to help install glass was while he was working for Ferguson Neu Dorf based out of Canada. He had the opportunity to use a mobile glass manipulator and said he was 100% skeptical but after the second and third piece he installed, he told himself, "you can't get much better than this."
There are many lessons Jimmy has taught our team. A few things he made very clear are to always use a back brace, knee pads, and use a lift if you can. At 55, Jimmy can't enjoy the things he would like to. His advice to the new generation of glaziers is simple—don't let your ego get in the way. Because when you're older, you will want to play with your grandkids and not have to tell them "sorry guys, grandpa has a bad back."
The goal of SmartLift is to eliminate the need to require glaziers to do things with their bodies that no other trade is required to do. The SmartLift team is here to help glaziers work a full career and retire with a life ahead of them. Many of the injuries they face are preventable with the aid of a SmartLift glass lifting machine.
We imported our machines in 2016 from Denmark and we currently have more than 400 machines in operation in the United States alone. SmartLift has just as much passion for the safety and efficiency of our glass lifting machines we offer as the glaziers have for installing glass. We are proud to provide a tool for glaziers to ensure you have a life after retirement. Let SmartLift help you. Available for purchase or rental.
Buy, Rent or Schedule Repairs
Click the button below and fill out the provided contact form or call us at 815-931-4825 to get started today.
Get Started