Posted on January 2, 2015
What is the typical turn-around time on Spydercrane maintenance?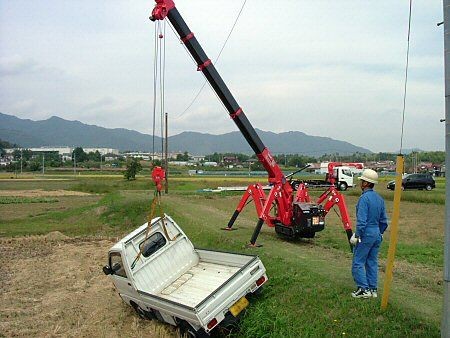 There's nothing worse than having an incredible tool that one can't use because it's in need of repair. The last thing anyone needs is to be sitting, twiddling their thumbs while waiting for a repair shop to do their thing.
That last thing we want is to have a customer having a project on hold because they can't lift the materials to where they belong without tiring the crew. It's why we do our best to keep your machine working in peak condition throughout its life cycle. But in the case that something happens, we'll do our best to schedule the work to get your machine back on out in the field as soon as possible.
A few factors typically go into the scheduling process:
It depends on from where the Spydercrane mini crawler crane is coming
The quicker we're able to get the machine into the shop, the easier we are able to perform maintenance on the machine. In some case, if the distance is far, we'll go ahead and send out a replacement machine to keep your project on schedule.
It depends on the the shop schedule
Like all shops, sometimes, our workload is light. Sometimes the workload is heavy. Whatever the load, we'll do our best to get the work scheduled in the shop in a timely, expedient manner.
It depends on what we find
At times, the work is easy. Other times, the work takes a fair amount of effort to repair or replace parts. Once we've performed a diagnostic, we promptly inform customers of the estimated time it will take to complete the work.
In the end, we help you to make it work
When it comes to our customers' maintenance and repair needs, the first thing we do is communicate proactively with them so they know exactly what is going on. The communication allows for our customers to make informed scheduling decisions. Contact us today if you have any questions about our maintenance or repair on your Spydercrane mini crawler crane.
photo credit: Furukawa UNIC on Pinterest
Buy, Rent or Schedule Repairs
Click the button below and fill out the provided contact form or call us at 815-931-4825 to get started today.
Get Started