Posted on January 23, 2015
Types of Spydercrane Mini Crawler Cranes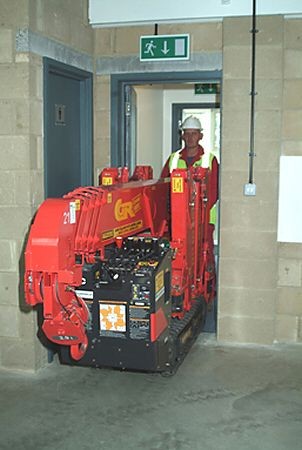 As diverse as the mini crawler cranes such as the Spydercrane are, the right tool is still needed for the right job. To help discern the differences, GreatLakesLifting.com has great descriptions for each of their Spydercranes. These descriptions include maximum lifting capacity, working radius, what size doorway they fit through, weight, and the types of engines each machine can use.
Below is a list of Spydercranes offered by Great Lakes lifting, along with a short description for each and links to their pages.
URW 295
It's the one that can fit through a single-wide doorway. Despite all its compatibility, the Spydercrane URW 295 can still lift up to 6,450 lbs. per load. At 4,100 lbs., the URW 295 is the lightest of the bunch, making it the most maneuverable.
URW 376
It has a 6,475 lbs. maximum lifting capacity, weighs under 4.5 tons and can fit through a double-wide door when traveling. It's no wonder that the URW 376 is one of our most popular crawlers.
URW 546
With a working radius ranging from 2.2 ft. to over 50 feet, the Spydercrane URW 546 can lift a whopping 8,920 lbs. With such strength, it too is available to fit through a double-wide door when it's being moved.
URW 706
The URW 706. The big one of the group. It has a working radius up to 61 feet and has an incredible maximum lifting rate of 13,330 lbs. It's available with a diesel & diesel / electric engines options. And you get the theme here: the URW 706 can fit through a double-wide doors.
They're all available with FREE delivery
Great Lakes Lifting can offer Free delivery on lines of Spydercrane Mini Crawler Cranes. Contact us today for more information! We're looking forward to fitting you with the mini crawler crane that will fit your needs.
photo credit: Furukawa UNIC on Pinterest
Buy, Rent or Schedule Repairs
Click the button below and fill out the provided contact form or call us at 815-931-4825 to get started today.
Get Started