Posted on February 18, 2015
URW-295 - Why the smallest of our mini crawler cranes could provide the biggest impact.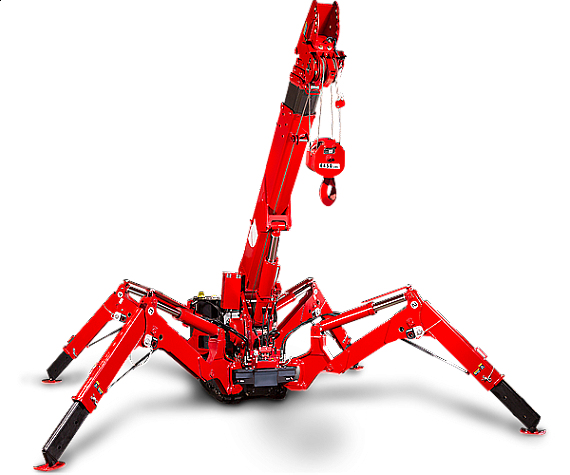 When compact and ready for travel, it can fit in the back of a standard trailer. It's also the only model in its size to be able to sneak through a standard single-wide door when traveling at nearly 1.5MPH on its own power.
It's hard to believe that something that can pack in and become smaller than a high-end riding lawn mower can be rated for 6,450 lbs. @ 4.6 ft. But that's what you get with the Spydercrane URW 295 mini crawler crane: a machine named for a spider but whose element of surprise is more reminiscent of a venus flytrap. Before you know it, it springs its value on you.
Maneuverability and Versatility
The stats of the URW 295 are well known: working radius from 1.5 ft. to 28 feet while remaining within 70 decibels within 24 feet. What should also be as equally celebrated are its versatility. The URW 295 has a variety of gas, electric, propane and diesel engines from which to choose. Equally as impressive are the variety of crane attachments, which allow the machine to go from a workhouse to a delicate, refined finishing tool capable of a gentle touch for materials such as glass windows.
And with the remote control, one can be in the center of the action or standing off to the side.
Free Delivery and Long & Short Term
Like all models, the Spydercrane URW 295 is available for Free Delivery as well as short term and long term rentals. Great Lakes Lifting also provides a full service shop with maintenance and repair services to keep the machine working in peak condition for years to come.
Pounce on the URW 295
It's definitely the mini crawler crane that whets the appetite. With its Swiss Army knife-like range of offerings, the Spydercrane URW 295 makes sweet, short work on a spectrum of projects.
For more information on our rental and maintenance services, contact us today.
photo credit: Furukawa UNIC on Pinterest
Buy, Rent or Schedule Repairs
Click the button below and fill out the provided contact form or call us at 815-931-4825 to get started today.
Get Started