Posted on April 22, 2015
What makes a Mini Crawler Crane unique?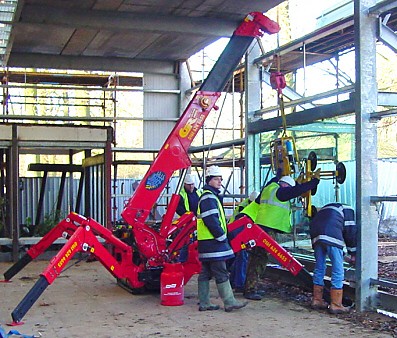 There is no such thing as a perfect crane, so they claim. Each job is unique. Each job is particular in what they have to do. Some require heavy lifting. Some require light work. Some need to be used all day. Others, very little. Some sit in the middle of a field and dig dirty while a daisy chain of dump trucks haul away what's left until all that's left is a hole. Others stand on the sidelines, assisting in stabilizing materials while the work is constructed.
Whoever "they" are should research a little deeper into Spydercrane mini crawler cranes. They just might take back what they've said. Spydercrane do a little bit of everything at such a value that it just might be the perfect crane. Check out the following features:
Stabilizing Legs
Lift from above, hosting from below, or moving materials from this side to that side, a mini crawler crane's stabilizing spyderlegs allows all maners of work to be done with securely, and on solid ground. The legs are also incredible for when the terrain is less than flat. Most all cranes, like Spydercrane, are OEM rated to work on soft slopes and other manner of uneven terrain.
Remote Controls
For some, the spyderlegs and outrigger mats aren't enough to make one feel safe and stable. For those who don't want to be in the crane while it is performing the work, most mini crawler cranes come equipped with a remote control. This means that individuals can stand on the sidelines, the very far sides if they choose, while the work is being performed. Afterall, it is true what they say, "there is no such thing as being, 'too safe.'"
Portability
Ever need to get equipment into higher heights but don't have a way in? With mini crawler cranes you do. Depending on the size crane you need, the Spydercrane can compact down and fit through standard size doorways. The smallest lines can fit through a double doorway. The bigger models can fit through a double doorway.
Parts and Service
Full service parts, maintenances, and repairs are available on most all mini crawler cranes, meaning that no one is purchasing a dud that's going to rust in a field do to lack of means to fix it. Parts are replaceable. Services is attainable. Most companies, like Great Lakes Lifting, provide maintenance contracts to be able to keep the machine in peak working order.
Need more information? Contact us today to learn more about our Spydercrane line of mini crawler cranes
photo credit: Furukawa UNIC on Pinterest
Buy, Rent or Schedule Repairs
Click the button below and fill out the provided contact form or call us at 815-931-4825 to get started today.
Get Started