Posted on June 14, 2017
The best mini crawler crane: Why we think it's Spydercrane.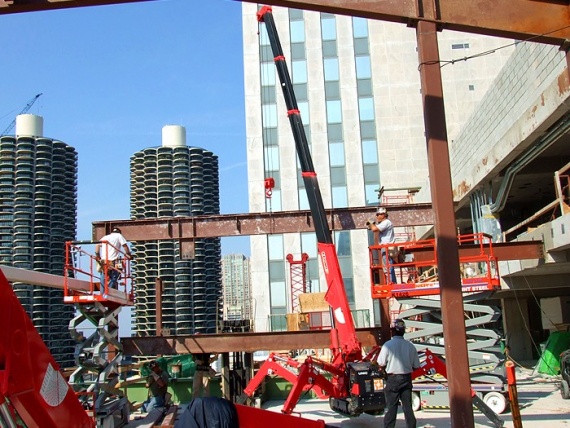 The competition for mini crawler cranes has widen its net since over the last 20 years. It's getting tougher to tell them apart. You could pull off the decals and paint them all with the same black matte paint and, admittedly, it would be difficult to tell them apart.
So, for us to think that Spydercrane is the best line of mini crawler cranes is a bold claim. But we claim it loud, we claim it proud, and we claim it for the reasons mentioned below:
Nowadays, it starts with the service. Customer service.
Our close-knit, cohesive team of helpful, friendly team members will take the time to listen to your needs. They will take the time to explain the solution they have analyzed as the best for your project(s). They will take time to make sure you know full-well all the ends and out of the mini crawler crane(s) & attachment(s) you need for the job(s).
Great customer service is harder and harder to find. We're fortunate that our team is willing to take time and listen. It's great for everyone.
The right tool for the job; the right mini crawler crane for the lift.
This is some of what our incredible team makes sure you get right: you don't need our biggest mini crawler crane – the URW 1006 - to lift only a couple hundred pounds. Conversely, you can't use our smallest Mini Crawler Crane, the URW 094, to do a 3-ton lift.
We make sure you get the most from your machine. You get the most from the machine, you get the most for your money.
Competitive, flexible deals.
We offer the full suite of services. The whole kit & caboodle. And we do it to make sure you get the best from your mini crawler crane. Those include:
Maintenance: Service before, during, and after the initial deal.
If you rent from us, we make sure the machine you get is working at optimal levels. While you're renting with us, we'll help make sure the machine(s) continue to run with peak efficiency. When you give it back to us, we'll make sure it's worked on and ready to go it goes back out into the field.
When you work with us, we make sure your machine is everything you expected it to be. While you're running it, we offer those maintenance agreements to help you stay ahead of end-of-life replacements as well as keep you on top of scheduled maintenance intervals.
About those incredible deals…
To learn about the deals, contact us by any of the following means provided below. We look forward to giving you the best of what mini crawler cranes has to offer.
Buy, Rent or Schedule Repairs
Click the button below and fill out the provided contact form or call us at 815-931-4825 to get started today.
Get Started