Posted on March 21, 2018
Talk about the weather: Outdoor workplace safety for mini crawler cranes.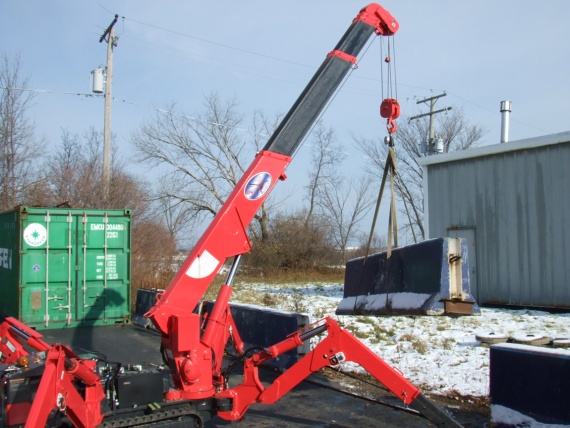 When your industry involves mostly outdoor work, it's hard to look away from the weather reports. In some places, it's drier than it's ever been during the winter. In other places, it's wetter than it's ever been. It seems every location where one of our mini crawler cranes land, there one can find another environmental extreme.
Please remember that while our equipment is top of the line and sold or rented to your projects in incredible condition, they aren't made from super-comic-book-alien-mega-metal, yet.
When you're using our mini crawler cranes, remember to consider the following:
The Terrain.
If you're in a drought-stricken area, remember that just because the land is dry doesn't mean the land is perfect. It can be slippery and unstable. Double-check with the proper authorities.
The Machine & Accessories.
If it keeps raining, make sure the machines are still dried and properly lubricated. If it's dry, make sure the machines aren't getting filled with dust and filament. Dust likes to dance when the water's away.
Complimenting Equipment .
Remember to check the other pieces of equipment on the job as well. Not just ours. The project will only work as well as the least-safe piece of equipment.
The Materials.
If the machines are good and dry and ready to go but the materials to be lifted are wet or dusty, then it's still going to be a sucky job. Check the material. Make sure they're cleaned and ready to go as well.
The Forecast.
Talk about the weather, make sure you know what's coming. 'Tis the season for the tightest planning. We suggest checking it multiple times a day. Many places around the country have a, "if you don't like the weather, give it five minutes and it will change," for good reason.
Stay diligent. Stay focused.
The Support.
If you're not sure if your mini crawler crane is safe to work in your ever-changing conditions, feel free to give us a call. We're here to do more than sell you a machine. Our friendly, knowledgeable staff will be able to walk through the conditions with you and determine if your workplace is safe and ready to go.
Buy, Rent or Schedule Repairs
Click the button below and fill out the provided contact form or call us at 815-931-4825 to get started today.
Get Started