Posted on March 11, 2016
The Spydercrane URW 094 has come home.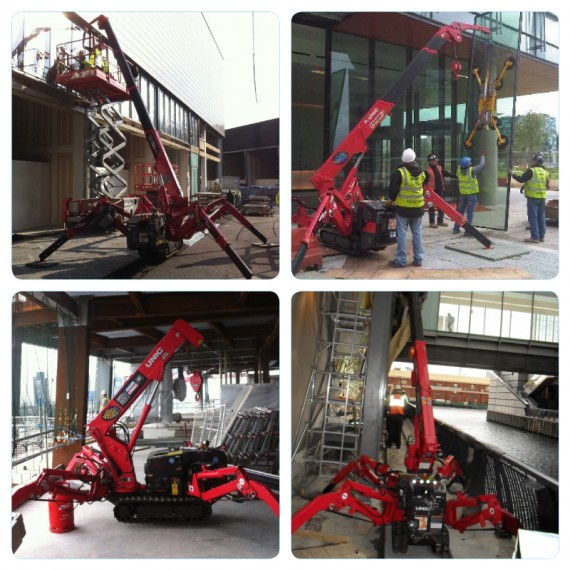 We wrote back over a year ago that we would be adding the Spydercrane URW 094 into our arsenal. The URW 094's compact yet powerful nature makes it the perfect choice for small jobs that compliment any project.
That time has come: as of now, the Spydercrane URW 094 is officially in our standard rotation of Spydercrane rental and repair services.
Spydercrane URW 094 Features - at a glance
Maximum Lifting Capacity: 1,990 lbs. @ 4.9 ft
Working Radius : .5 to 18 ft.
Max Lifting Height: 22 ft. Above Ground Level | 34.5 ft Below Ground Level (with 2-Part Line)
Fits Through a: Standard Doorway (in compact mode)
Dimensions (W x H x L): 1.9 ft x 6.1 ft x 4.2 ft (W x H x L)
Weight : 2,400 lbs.
Engine Options: Battery Powered, Charged on a 110V Charging System
Emissions: Zero. Zip. Zilch. Nothing. None.
Possible Outrigger Positions: 62
For a Full PDF of the Spydercrane URW 094's Features, click here.
Like we've said before, the URW 094 is the smallest of the Spydercrane Mini Crawler Cranes but as you can read in the features posted above, it is incredibly powerful for its size.
About that size: it also fits in a standard elevator
A standard doorway isn't the only place the URW 094 will glide through. With it's compact travel features, you can use basic elevators to get the machine to different levels of buildings and construction sites without having to use extra equipment or resources.
In the end, this is a Spydercrane
Just because the URW 094 is the smallest in the line doesn't mean it doesn't get all the features, benefits, and privileges of a Spydercrane mini crawler crane. They do. As a referesh, those include:
Mylar Non-Marking Tracks
Glass Handler
Custom Tandem Axe Trailer
Hook Safety Latch
And even something new to spydercranes: a U-Wave Wireless Radio Remote Control. All the features and functions. None of the "being in the machine," if you choose not to.
What more could you ask for?
Perhaps...a quote!
To rent or have a Spydercrane URW 094 worked on, contact us today.
photo credit: GGRGroup
Buy, Rent or Schedule Repairs
Click the button below and fill out the provided contact form or call us at 815-931-4825 to get started today.
Get Started